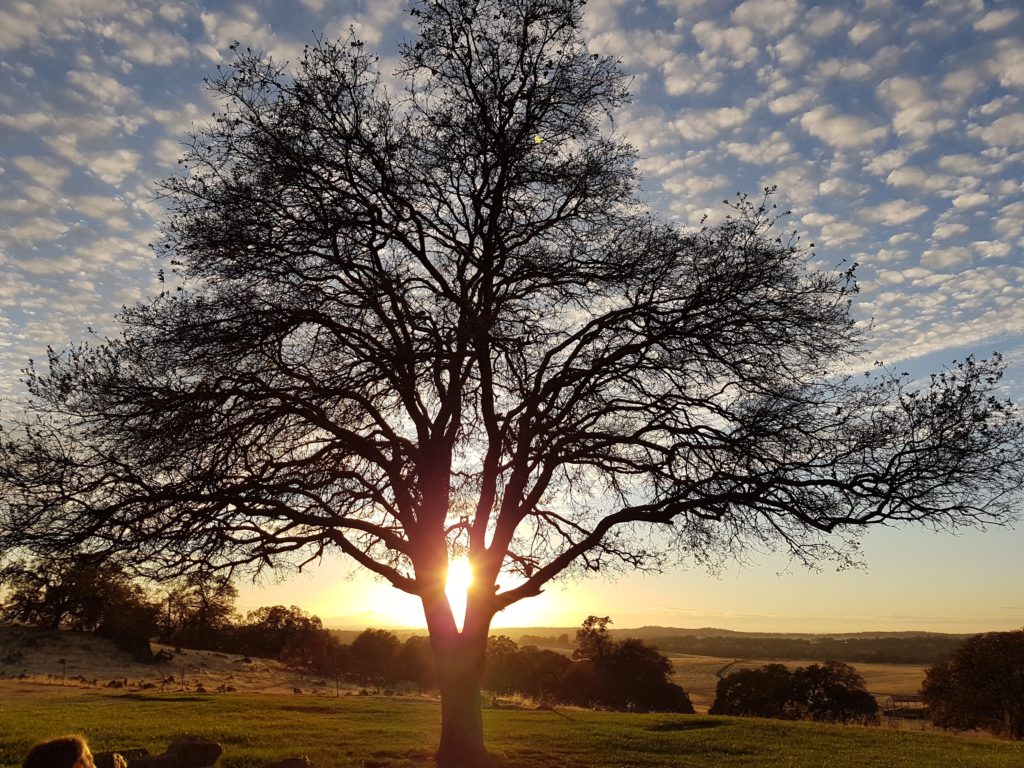 Native Nomad gift shop and home store came about as a creative effort to find beauty and serenity with hand made items found both locally and from afar (Native Northwestern and other small, independent U.S. businesses).
The oak tree image for our logo is taken from a special tree that has a lot of significance to our family. Under its branches, we have enjoyed many a sunrise/sunset, campfire, story, song, game, bbq, water fight, jokes and laughter with family and friends. To us, it represents the enduring love we have for each other and all of the lives that have touched ours from around the world.
We met in '92 during college, working at a soup kitchen in Portland, OR. We have been married for 28 years, raising our children in SW Washington for the last 26. Because most of our family is from Oregon, Washington and Idaho, we've always made time to visit them- traveling all over the amazing PNW. We have also traveled to many U.S. States and World destinations and enjoyed various regions & cultures. Finding those quirky, unusual & nuanced spots: poring through museums, cultural centers, mom & pop shops and eateries is key to understanding a place and its people. We love history, art, culture, science, philosophy, theology and the interplay between all of them. We've raised our children to appreciate the perspectives of others; to help those in need: orphans, abandoned women and those suffering from poverty and disease by gaining sponsorship for their basic needs: food, shelter, medicine and education. If you have an interest in what our humanitarian efforts are, please feel free to drop by the shop and chat with us or send us a personal message.
We live out in the country and have raised our kids to be explorers & thinkers- to use their talents and skills creatively. We have always enjoyed arts and crafts and in 2017, we began selling our decor, gifts, furniture and jewelry creations at several local shops and markets and officially launched our company in 2018. We settled on the name because we are native to the Northwestern U.S. but nomads at heart. The name also refers to the makers and artists native to the NW, U.S. & abroad whom we support and promote. We want to bring people together in local and global communities, supporting & uplifting one another.
During the pandemic, we noticed our children becoming more and more anxious, depressed and withdrawn. Living without the activities and outside friendships that they were used to was beginning to take its toll and we worried that their long-term mental health would be permanently affected. In 2020, we had heard that a new Rosauers grocery store had opened in Ridgefield, WA. and since our families in Eastern WA. & Idaho always shopped at Rosauers, we thought it would be fun to check it out. It was then that we noticed a "For Lease" sign on the last available space to rent in the Discovery Ridge complex. We thought, "What could it hurt to just inquire?" When we spoke with the owner, he was incredibly enthusiastic and supportive of our vision, relating to us that he had been holding out for a local home decor and gift boutique to take the space. We took this as a sign that we were doing the right thing, and that opening a shop that would involve our children and bring some hope to them and our community would be helpful and healing. We were asking our kids to be brave about growing up in a scary and uncertain time, so we decided to show them how and not just tell them to do it. In November, 2020, we took the plunge and invested our own capital, not borrowing a single penny and we still do not operate under any form of credit. Sink or swim. If we can't make it, then we fold. We rely totally upon sales, and we support our makers. Most shops require rent plus commission and many times, for their vendors to work. We do everything ourselves, from our own advertising, manning the shop, managing finances/inventory to cleaning up the place. This is why our hours are a bit later in the day, we spend our mornings getting everything ready for you- from picking up deliveries to working on our books. We are home-spun and semi-professional-ha!
We have all become used to buying cheap items made overseas and it is going to take time to turn the supertanker around and build a more locally-based economy but we are committed to trying.
Our goal is to be ourselves, to not judge or divide people and to keep it lighthearted & fun! We believe that our customers' needs are important and that kind and friendly service are essential. We are here to make your experience as positive and uplifting as possible. Thank you so much for taking the time to understand and read our story, we hope that you will visit us soon!
Blessings! – Sara & Jim